Engaging with a top-tier white-label SEO company can transform your agency, unlocking new horizons in the digital landscape. This collaboration enables you to diversify your service offerings and cater to a broader clientele without expanding your workforce.
However, the challenge lies in pinpointing the right white label SEO experts. With an array of options available, identifying the best fit necessitates understanding their distinct offerings and specialties.
To streamline this search, we've curated a list of the five most reputable white-label SEO service providers, each evaluated for their unique strengths and services, ensuring you find the optimal match for your agency's vision.
What is a White-Label SEO Company?
A white-label SEO company is essentially an outsourced SEO reseller. They perform SEO tasks and deliverables on behalf of another company, allowing that company to present the work as its own. Think of it as a behind-the-scenes team; they do the work, but the credit goes to the company that hired them.
For instance, if a marketing agency has multiple clients needing a consistent flow of blog articles but lacks the capacity or expertise to produce them all, a white-label SEO provider can step in. They'll create the required content, and the agency then presents it to their clients as if they produced it in-house.
Read: Growth Hacking vs Growth Marketing vs Digital Marketing
These specialized companies offer a gamut of SEO services, such as:
Keyword analysis for targeted content creation.
Crafting backlinks to enhance site authority.
SEO-focused copywriting to boost search rankings.
Improving page load speeds and overall site performance.
On-page SEO tweaks to optimize individual web pages.
Technical SEO for site structure and crawlability improvements.
Analyzing competitors for strategic advantages in the SEO management market.
The essence of white-label provider is to allow businesses to scale and enhance their ongoing SEO solutions without investing in in-house expertise or resources.
Read: Benefits Of Outsourcing WordPress
Why Work with a White-Label SEO Provider?
Working with a white-label SEO partner offers several advantages:
Scalability
With SEO reselling, agencies can expand their offerings, meeting new SEO clients' demands without the hassles of recruitment.
Cost-Efficiency
Outsourcing can often be more affordable than maintaining an in-house sales team, especially considering salaries, benefits, and training costs.
Expertise
You're not just getting service; you're getting specialization. These providers live and breathe SEO, ensuring they're always aligned with the latest strategies and advanced SEO tools for boosting search engine rankings.
Focus on Core Strengths
Agencies can concentrate on their primary areas of expertise, such as client relations or broader strategy. At the same time, the white-label SEO provider handles the intricate details of SEO.
Fast Turnaround
With a dedicated team along with a dedicated account manager, white-label providers can often deliver results more quickly, meeting tight client deadlines.
Flexibility
It's easier to scale up or down based on client needs without the commitments tied to full-time employees.
Read: What Is Remarketing In PPC
Consistent Quality
Established white-label SEO companies have a track record of delivering consistent quality, ensuring client satisfaction and reputation management.
Branding
Agencies can offer these high quality SEO services on clients websites under their own brand name, enhancing their reputation and value proposition to clients.
Comprehensive Service Offering
Partnering with a white-label SEO companies allows agencies to offer a full suite of digital marketing services including content marketing, making them a one-stop solution for clients.
Risk Reduction
By relying on proven experts, online marketing agencies mitigate the risks associated with incorrect or outdated SEO strategies and SEO tools.
Read: Social Media Strategies For Your Small Business
Best White-Label SEO Agencies to Consider
Seahawk

Seahawk stands as a prominent player in the white-label SEO services landscape. With a keen understanding of the complexities of search optimization and link building, we offer tailored solutions to agencies looking to enhance their digital service roster:
Managed SEO Services: Seahawk's white-label SEO services are designed for agencies aiming to provide SEO to their clients without the in-house overhead. Our white-label SEO packages starts at a competitive $499/month, our experienced in-house team including a dedicated project manager works behind the scenes, ensuring our clients enjoy enhanced website visibility.
Content Creation: Content remains king in the realm of SEO. Seahawk's white-label content creation services ensure agencies deliver top-tier, SEO-optimized content to their clients. Our skilled team crafts everything from website content writing and blog posts to promotional articles and white papers.
SEO Audits: As an invaluable tool for agencies, Seahawk's comprehensive white-label SEO audit helps diagnose client website issues. This detailed analysis includes technical evaluations, content assessments, and deep dives into on-page/off-page SEO strategies and link building profiles.
White-label WordPress Services: For agencies venturing beyond just SEO, Seahawk provides white-label WordPress solutions. They handle everything from development and design to maintenance, support, and emergency interventions like hacked site repairs.
Seahawk emerges as a comprehensive white-label SEO solutions provider, empowering agencies to offer top-tier digital solutions to their clientele without needing expansive in-house teams.
Read: Ultimate White Label SEO Guide For Agencies
Victorious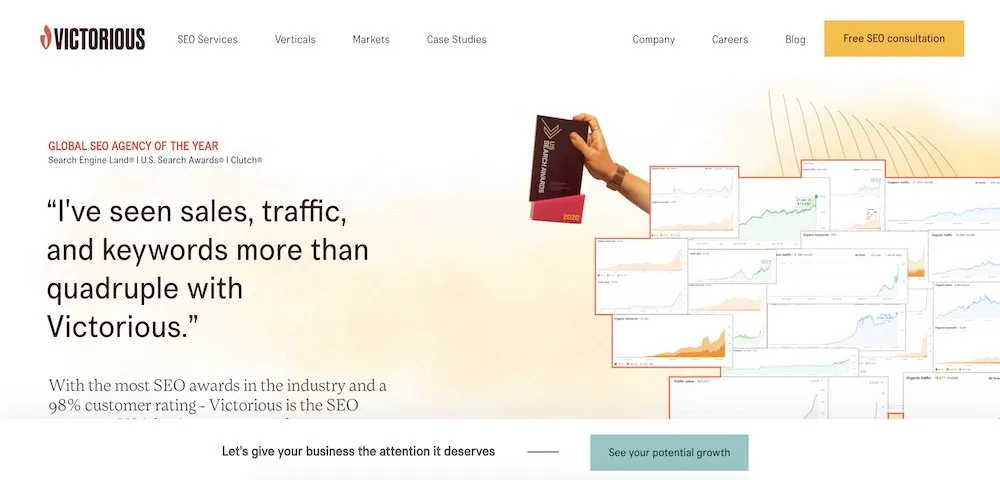 Victorious is a renowned white label SEO company recognized for its unparalleled expertise and commitment to excellence. Catering to agencies with white-label needs, they offer a suite of services that include:
Keyword Research: Dig deep to uncover the most relevant and impactful keywords tailored for client campaigns.
SEO Audits: A thorough assessment to identify and rectify potential SEO pitfalls, ensuring optimum website performance.
Link Building: Craft authoritative backlinks to boost site credibility and enhance search engine ranking.
SEO Writing: Generate compelling, SEO-optimized content that resonates with target audiences and aligns with search engine algorithms.
With a promise to protect agency anonymity, Victorious delivers these unbranded services, allowing agencies to seamlessly cater to their clients, even without an in-house SEO team. Their approach is deeply rooted in data analytics, ensuring every strategy is meticulously planned and laser-focused on driving maximum ROI. In essence, Victorious is not just about achieving SEO victories; it's about championing triumphant campaigns that translate to tangible results.
Read: Best WordPress SEO Agencies
Boostability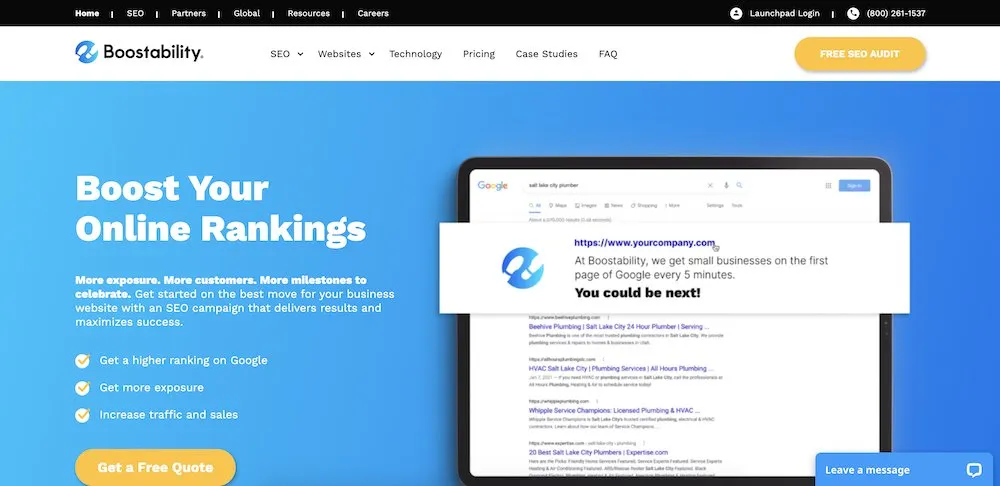 Pioneering the white-label SEO space, Boostability offers a comprehensive suite of services tailored for businesses aiming for the zenith of digital success. Their specialty lies in the following:
Google Rankings: Through proven strategies, they help businesses ascend the Google ranks, ensuring greater visibility and reach.
Increased Exposure: By adopting cutting-edge techniques, they work tirelessly to maximize a company's digital footprint, making them a go-to name in their niche.
Traffic and Sales Augmentation: Boostability's strategy aims to enhance site visits and ensure these visits translate to sales.
Read: Reasons To Avoid Cheap Hosting For WordPress Websites
Their offering spans:
Full-Service SEO: A holistic approach to SEO, covering every aspect from on page optimization to off-page optimization.
Content Writing: Crafting compelling narratives that are engaging and SEO-optimized.
Website Design and Development: Building responsive, user-friendly sites that resonate with the brand's ethos and are optimized for search engines.
Boostability's packages are designed with agencies in mind. By including dedicated SEO experts and customer success representatives in each package, they ensure that agencies can provide their clients with a seamless, fully managed SEO experience, allowing them to focus on their core business operations. In a nutshell, Boostability's white-label services are a boon for agencies looking for a hassle-free and effective SEO solution.
Learn: Growth Hacking Mistakes Small Businesses Should Avoid
Semify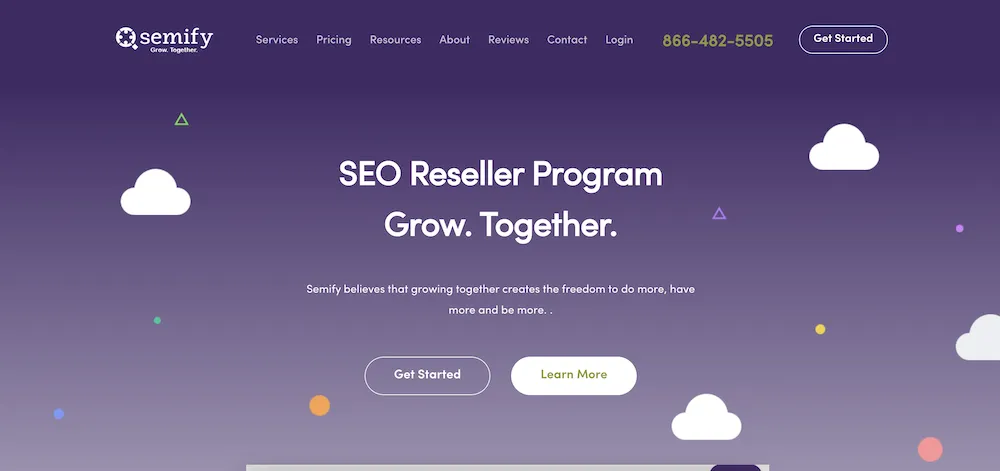 An industry stalwart in the white-label SEO domain, Semify has carved a niche by consistently aiding businesses and agencies in scaling their operations. With over 13 years of invaluable experience, they bring to the table:
White Label SEO Program: Tailored for agencies and businesses, this program is designed to amplify client results without compromising brand integrity.
Content Marketing & SEO: Expertly crafted narratives and robust SEO strategies ensure maximum online visibility.
Local SEO: Ensuring businesses dominate their local digital landscape with precise and targeted strategies.
PPC: Leveraging paid campaigns for immediate visibility and enhanced ROI.
SEO Software: Proprietary tools to streamline, track, and optimize SEO campaigns.
Semify has successfully bolstered the marketing strategies of countless businesses across North America. Their unique proposition lies in seamlessly integrating with partner agencies. By acting as a valid extension of your own reputation management team, Semify ensures that while the clients reap the benefits of expert SEO strategies, the agencies can focus on growth and expansion. In essence, Semify is not just a service provider; it's a growth partner.
Read: How To Lazy Load Images And Videos In WordPress
51Blocks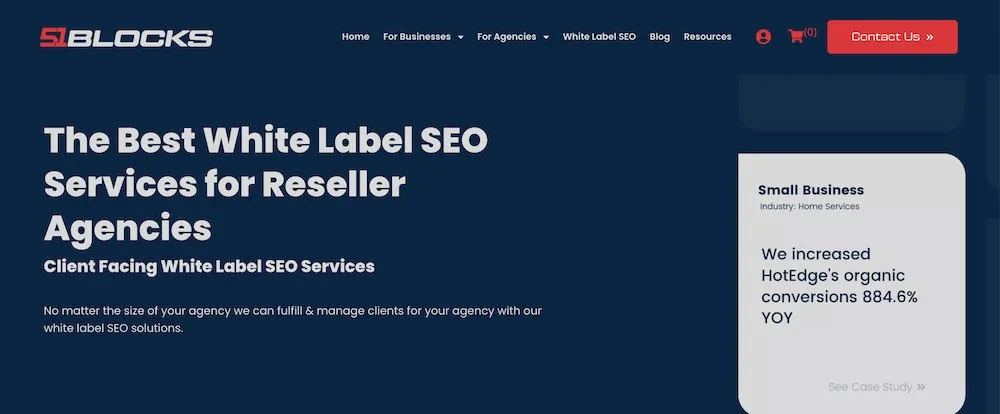 Navigating the intricate world of white-label SEO, 51Blocks emerges as a beacon for reseller agencies seeking top-tier SEO solutions. Their offerings are comprehensive and designed to integrate with your agency's existing services seamlessly:
Local & National SEO: Catering to both businesses aiming for local dominance and those with national aspirations, ensuring optimal online visibility.
Link Building: Crafting authoritative backlinks to elevate website credibility and boost search engine standings.
Content Creation: Expertly curated content that resonates with the target audience, all while being SEO-optimized.
Audits & Reporting: Providing a transparent, in-depth website performance analysis, helping clients understand and chart their growth trajectory.
51Blocks doesn't just promise; they deliver. Their impressive track record includes notable achievements such as securing a #3 rank for the highly competitive keyword "mortgage" and a #2 spot for "dui lawyer denver." Their prowess in the SEO domain makes them an invaluable partner for agencies aiming to offer unparalleled white-label services to their clients.
Read: New Web Design Trends In 2023
Choose the Right White-Label SEO Company
In the ever-evolving digital marketing landscape, white-label SEO services have emerged as a linchpin for agencies aiming to expand their offerings without hefty overheads. By leveraging the expertise of specialized providers, agencies can ensure their clients receive top-tier SEO solutions tailored to their unique needs. The key lies in recognizing the agency's objectives, assessing the range of services available, and aligning with a provider that shares a common vision of success. In this collaborative model, top marketing agencies can amplify their reach, diversify their portfolio, and cement their reputation in the competitive digital realm. As the digital world grows, the value of robust, white-label SEO services will only become more pronounced.
Partner With Us For White-Label SEO Services
Talk To A SEO Expert Today!
FAQs
What is a white-label SEO services agency?
A white-label SEO services agency provides SEO services that other companies can brand and sell as their own. They work behind the scenes while allowing another company to put their branding on the service.
Who are the best white-label SEO providers?
The best white-label SEO firm are companies with a proven track record of delivering quality SEO results, extensive industry knowledge, and a suite of services tailored to meet varying client needs. The "best" can vary based on specific needs and objectives.
Who is an SEO service provider?
An SEO service provider is a company or individual specializing in offering services related to search engine optimization, aiming to improve a website's visibility on search engines and drive organic traffic.
How do I find the best SEO service provider?
To find the best white-label SEO service provider, consider the following:
1. Research their past performance and client reviews.
2. Evaluate their range of services and industry expertise.
3. Assess their communication and reporting processes.
4. Ask for case studies or references from past clients.
5. Compare pricing models and the value they offer.
What is White-Label SEO services?
White-label SEO services refer to SEO services provided by one company that can be rebranded and sold by another company. Essentially, the company producing the services remains invisible to the end client, allowing the reselling company to brand the services as their own.
What are private-label SEO services?
Private-label SEO services are similar to white-label services. They allow resellers to purchase SEO services from a provider and then brand and package them as their own, often with more customization options tailored to the reseller's brand and client needs.
What are the benefits of white-label SEO?
Benefits of white-label SEO include:
1. Expanding service offerings without in-house expertise.
2. Saving on recruitment and training costs.
3. Accessing specialized knowledge and tools.
4. Focusing on core business operations while outsourcing technical tasks.
5. Enhancing client satisfaction with comprehensive services.
6. Gaining scalability and flexibility in service delivery.