When building a website, choosing the right platform is essential for success. Among the many options for website building platforms available, WordPress and Showit are two contenders that stand out, each offering a unique set of features and advantages.
WordPress, a globally recognized CMS, powers over a third of the web and is known for its versatility and extensive customization options. On the other hand, Showit is a newer, user-friendly website builder that has gained traction with its intuitive drag-and-drop editor functionality. It has amassed a loyal following of over 40,000 users over a decade.
Deciding between these platforms can be challenging, as both cater to different needs and preferences. In this blog post comparison, we'll take a deep dive into Showit vs. WordPress, exploring the pros and cons of each to help you make the best choice for your website-building needs.
Know: Best Sites To Hire WordPress Developers In 2023
WordPress vs. Showit: Overview
WordPress and Showit are powerful website platforms catering to different user preferences and needs. WordPress is a versatile website builder known for its extensive customization options. It's suitable for all website and small business owners, from personal bloggers to e-commerce giants. Users can tailor their site to their needs with countless themes and plugins. However, it requires more technical knowledge and maintenance.
Learn More: 10 Best WordPress Maintenance Service Providers For 2023
On the other hand, Showit is designed for users who prefer a more visual, drag-and-drop editing environment. It's user-friendly and perfect for those new to website building or who want a straightforward design process. Showit is ideal for customers needing less technical customization but wanting unlimited creative freedom in page design. It's trendy among photographers and small businesses.
Interestingly, although Showit markets itself as a distinct platform, it utilizes WordPress for its blogging capabilities. So, if you have a Showit website with a blog, the blog is built on WordPress. This partnership combines the strengths of both platforms, allowing users to enjoy Showit's intuitive design process while benefiting from WordPress's powerful blogging features.
Read: WordPress vs. Magento
WordPress vs. Showit: Ease-of-use
WordPress and Showit aim to simplify website building for users of varying skill levels and experiences, each with a unique approach. WordPress simplifies complex customization, while Showit provides a platform for users to build custom websites more visually, akin to assembling a scrapbook or collage.
WordPress' Ease-of-use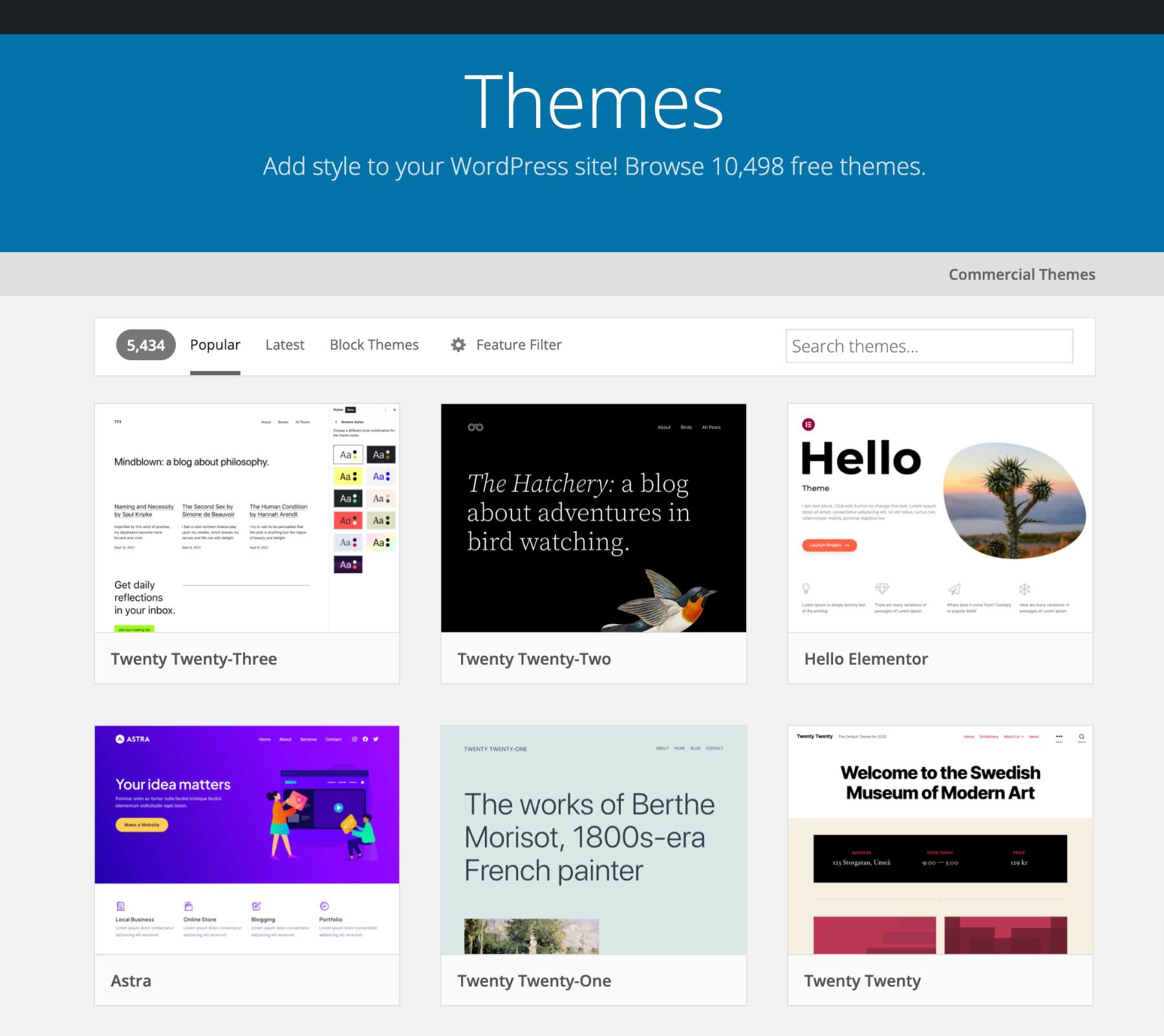 Requires a hosting environment ranging from WordPress.com to more custom hosting solutions.
Comes with default themes pre-installed and all the essential functions of a website.
Allows easy changes to settings for website functionality.
It provides multiple page creation options, including the Gutenberg Editor for block-based designs, the Classic WordPress editing experience, and visual page-building themes like Divi.
Offers straightforward blog creation with customizable taxonomy through categories and tags.
Showit's Ease-of-use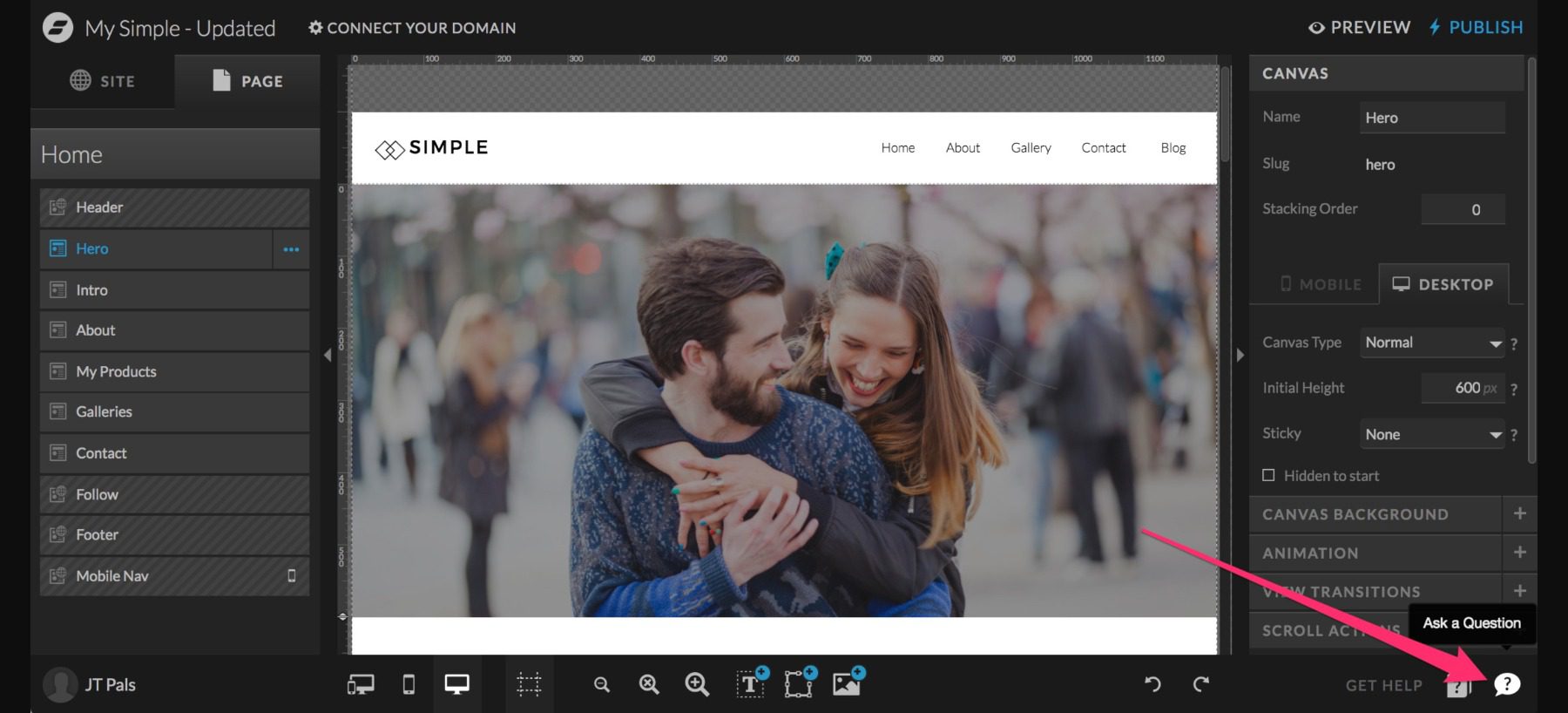 Features a visual builder reminiscent of the Wix editor but more straightforward and pared down.
Designed for creatives without coding skills, Showit provides an easy onboarding process with prompts and how-to articles.
Offers support through social channels and Live Chat, though the smaller support team may result in delayed responses.
Includes built-in SEO tools like SEO Page Title, SEO Meta Description, and Share Image.
Allows adding custom Javascript, CSS, and HTML for tools like Google Analytics, Search Console, and Optimize.
Recommends only using Google Chrome for complete compatibility, which may be limiting for users of other browsers.
Allows easy editing of pages, sections, and individual elements with a layer-based approach similar to Photoshop.
It enables simultaneous viewing of desktop and mobile page versions and offers a dark mode.
Winner
Showit. While both platforms offer ease of use in different ways, Showit's straightforward and visual interface makes it a more user-friendly option, even if it requires using Google Chrome.
Interested In: WordPress Vs. Weebly
Showit vs. WordPress: Design and Flexibility
Showit and WordPress each have distinct features and functionality defined by their initial focus and specialization. Showit is tailored for portfolios, while WordPress is suitable for various web projects, including portfolios. It's crucial to compare their parameters, specifications, and unique features to choose between them.
WordPress eCommerce

WordPress enables small-to-large web store creation through eCommerce plugin integration. WooCommerce, an open-source shopping cart plugin, is the most popular choice for building feature-rich web stores. It allows setting up essential eCommerce parameters such as geolocation support, customization of eCommerce templates, product and inventory management, and more.
Showit eCommerce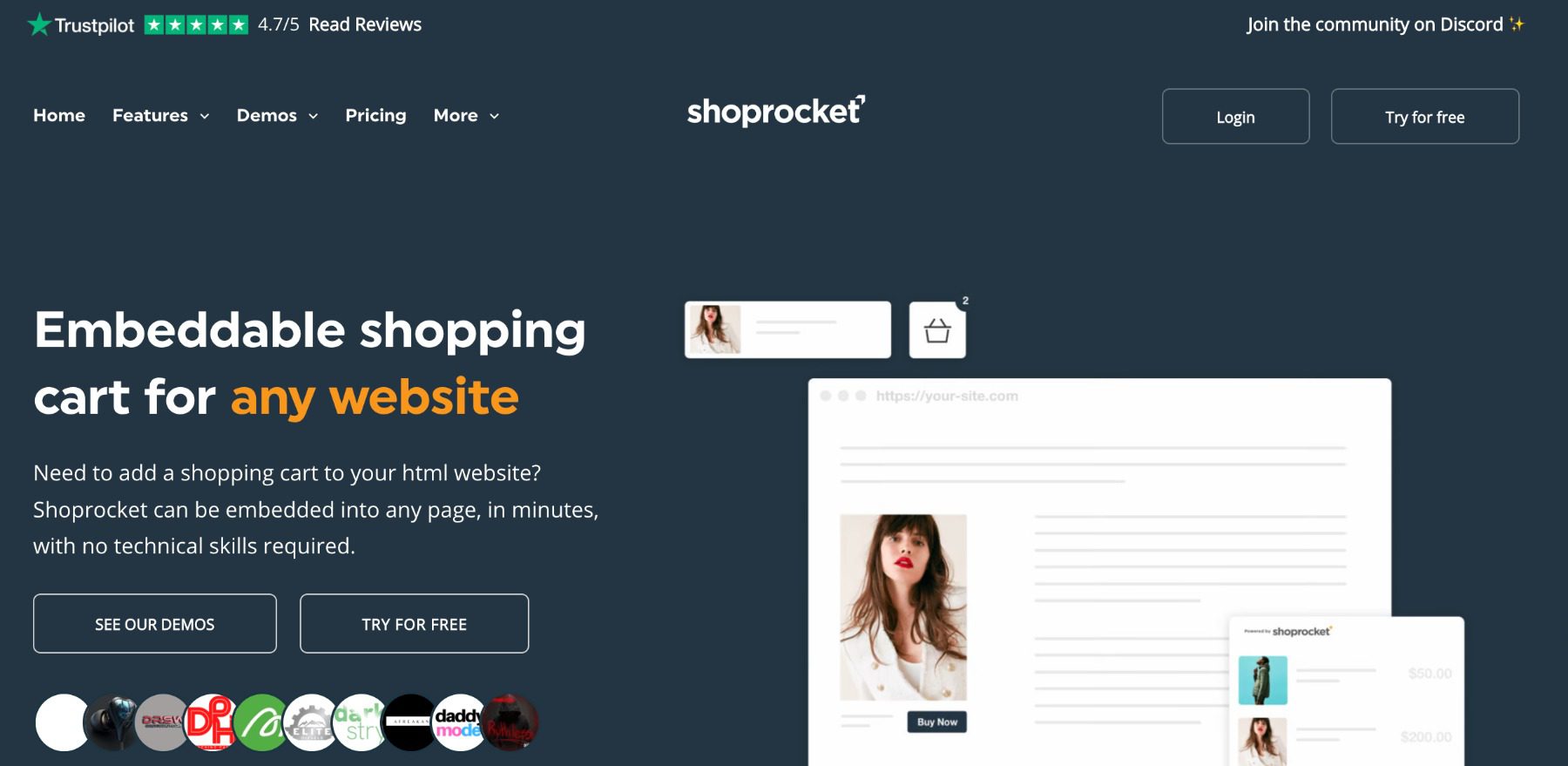 Showit, on the other hand, has no built-in eCommerce engine, making it possible to start an online store if you integrate a WordPress eCommerce plugin. Its WordPress support allows connecting a digital store for selling photography works/services. However, setting up eCommerce on a Showit account takes time, skills, and effort.
Winner
In terms of eCommerce, WordPress is the clear winner. While Showit lacks an eCommerce engine and requires WordPress support for web store creation, WordPress offers powerful eCommerce plugin integration, making it the better choice for professional digital store development.
Know: HubSpot Vs. WordPress: Choosing The Right Website Platform
WordPress vs. Showit: Customization
When it comes to website customization, WordPress and Showit offer different approaches, catering to other user preferences and needs.
WordPress Website Customization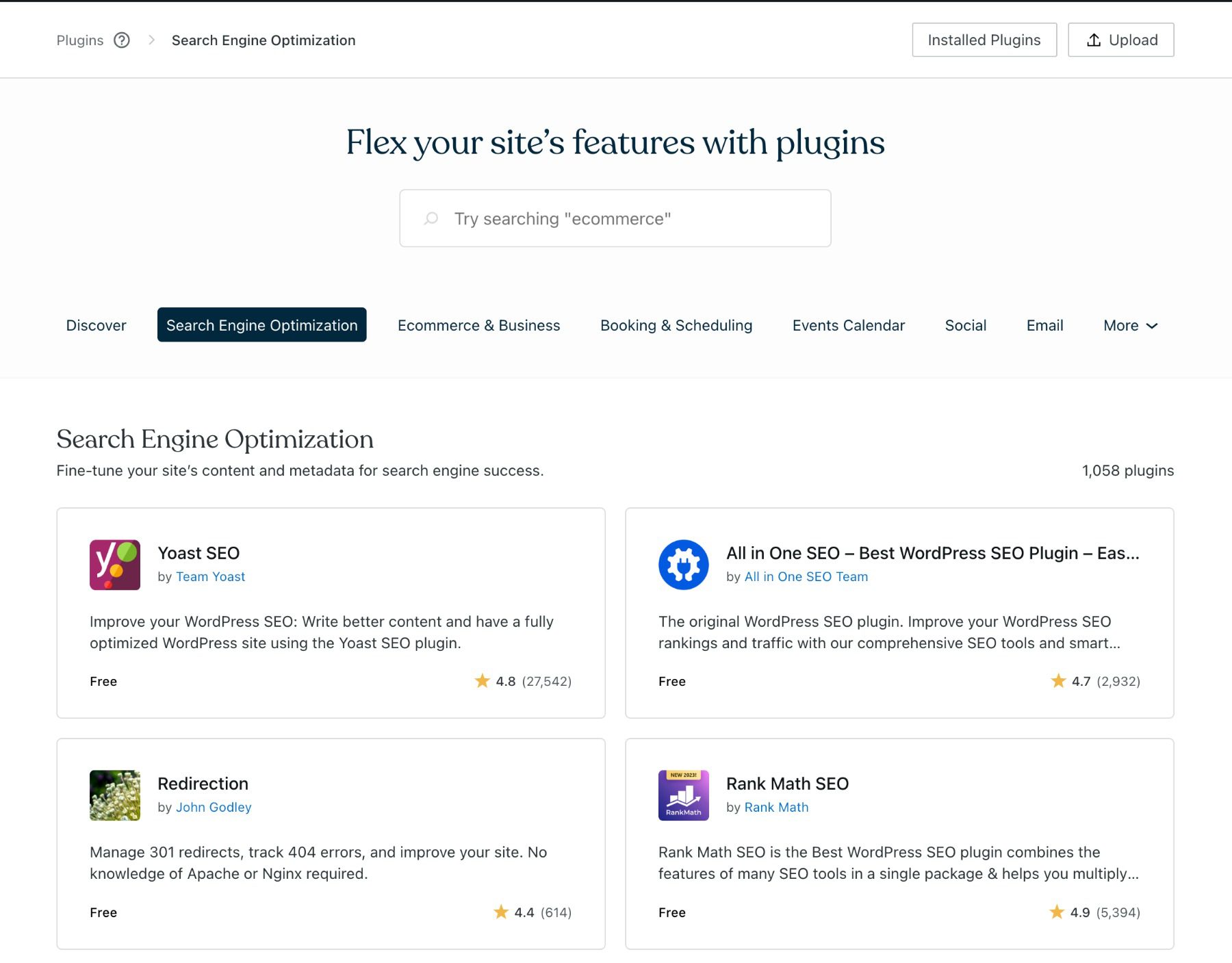 WordPress offers vast customization options for those with coding knowledge and those without. Customization primarily occurs through themes and plugins. WordPress has a staggering repository of over 59,000 free plugins, and many premium themes and plugins offer advanced features and customer support. Some popular plugins include Rank Math for advanced SEO, Divi for visual site building, Exact Metrics for website metrics and Google Analytics integration, MemberPress for membership features, WooCommerce for creating powerful eCommerce websites, Social Post Feed for integrating Facebook feeds, and Monarch for a robust social media sharing platform. Every aspect of WordPress is customizable, limited only by your skill, imagination, and desire.
Related: Sitecore Vs. WordPress: Which CMS Is Right For You?
Showit Website Customization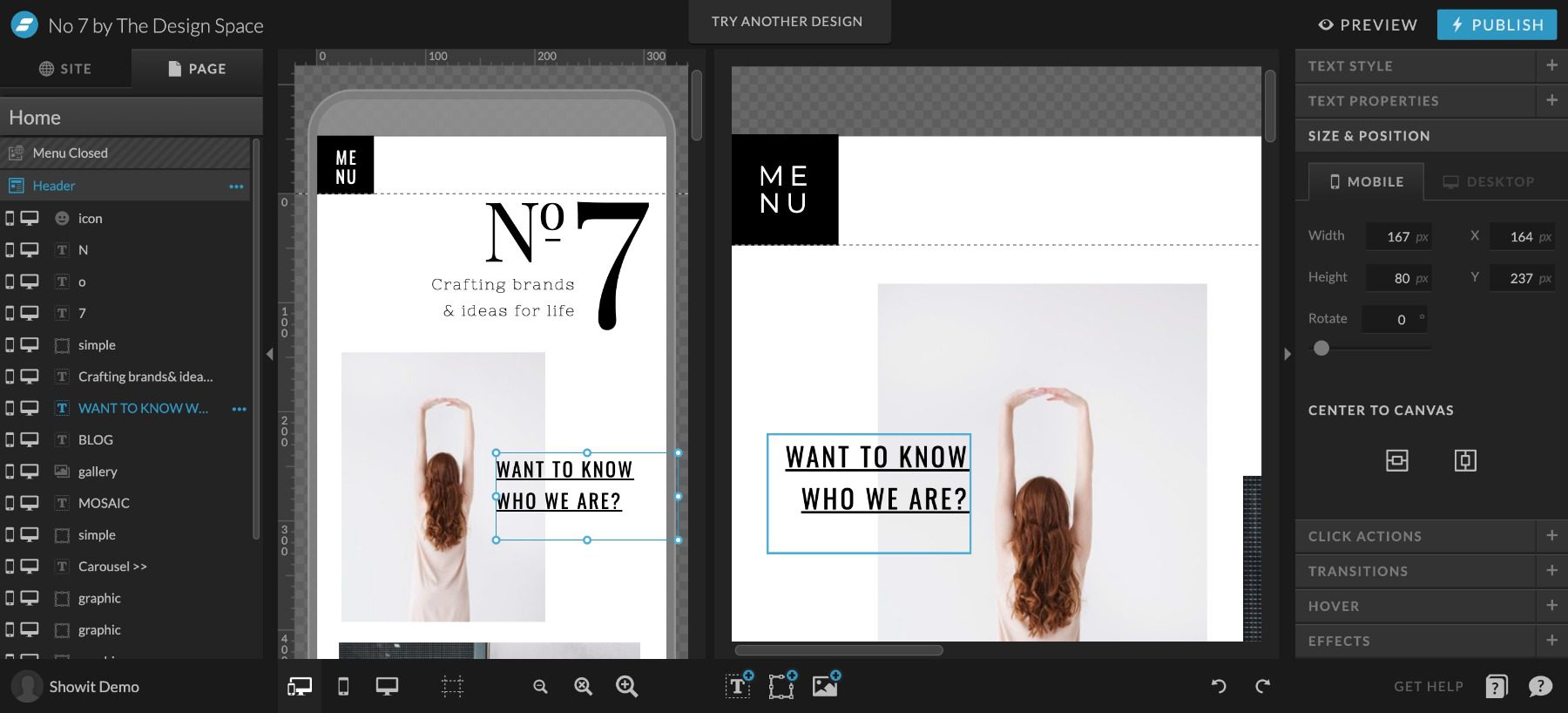 Showit provides a user-friendly drag-and-drop visual builder, allowing beginners to create their websites without any coding knowledge. Customization in a Showit site is quite different from WordPress. As a closed system, Showit's website capabilities only expand through official feature releases. However, with the highest-tiered pricing plan, users can attach a WordPress installation to their Showit website. In this tier, Showit allows WordPress to extend the functionality of the WordPress side of the site, but these plugins do not affect the main pages of the Showit website.
Winner
When it comes to customization, WordPress is unrivaled. It offers a multitude of options for users of all technical skill levels. In contrast, Showit aims to be a simple solution and thus doesn't provide the same level of customization.
Learn: Wix Vs. WordPress: Which One Is Better?
WordPress vs. Showit: Themes and Templates
WordPress and Showit offer various themes and templates to help users create visually appealing websites for mobile devices. However, the approach and options each platform provides differ significantly.
WordPress Themes and Templates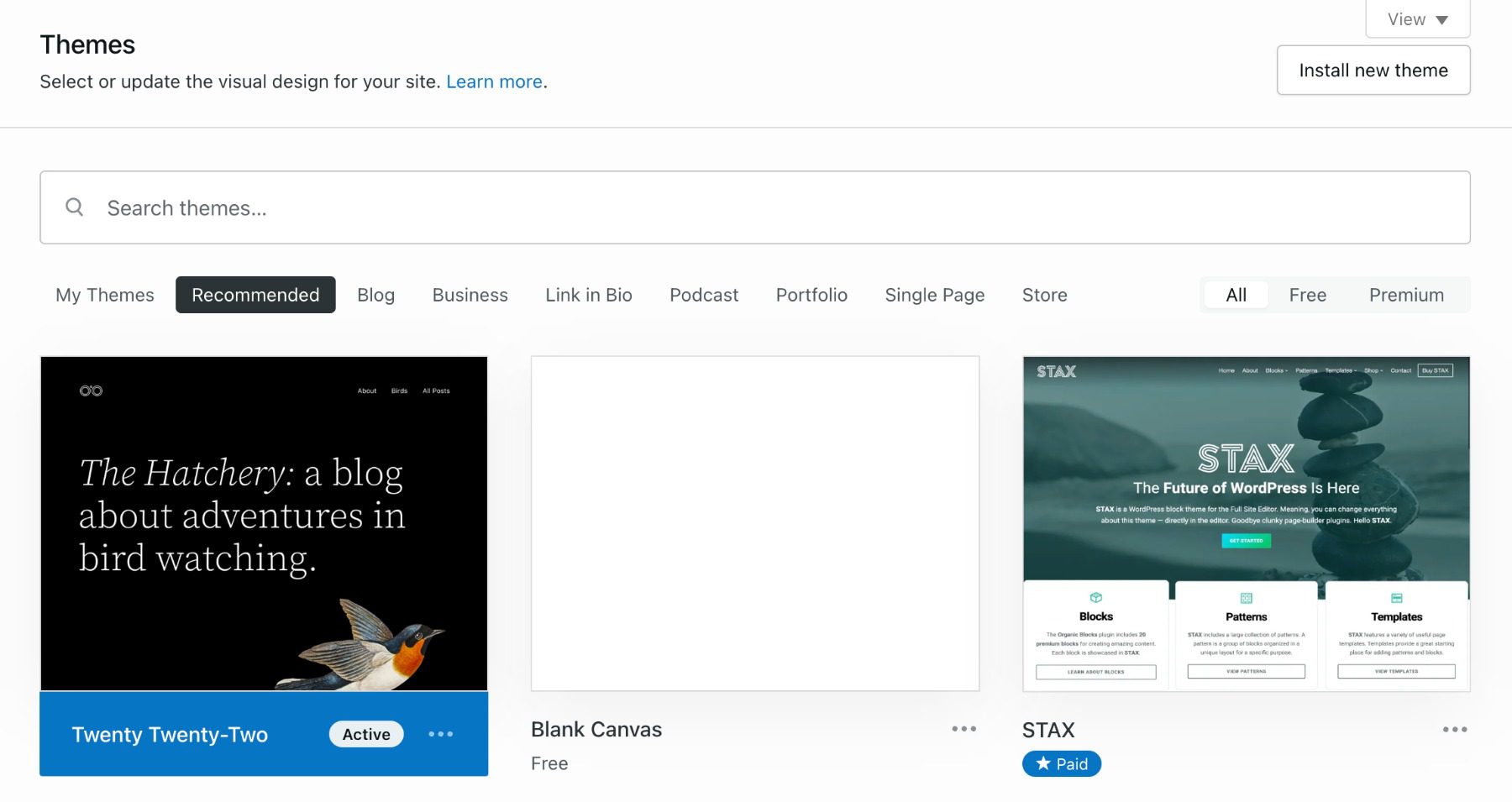 WordPress relies on themes to determine a website's appearance and functionality. With thousands of free themes, users can easily find a suitable starting point for their website projects. For those seeking a more customizable solution with a visual building interface, page-building themes and plugins like Divi offer hundreds of templates that can be customized using just a few clicks and drag-and-drop interface. This makes it easier for users to tailor their own website designs without sacrificing the customization capabilities of WordPress.
Read: The Ultimate Guide For Creating A WordPress Ecommerce Website
Showit Templates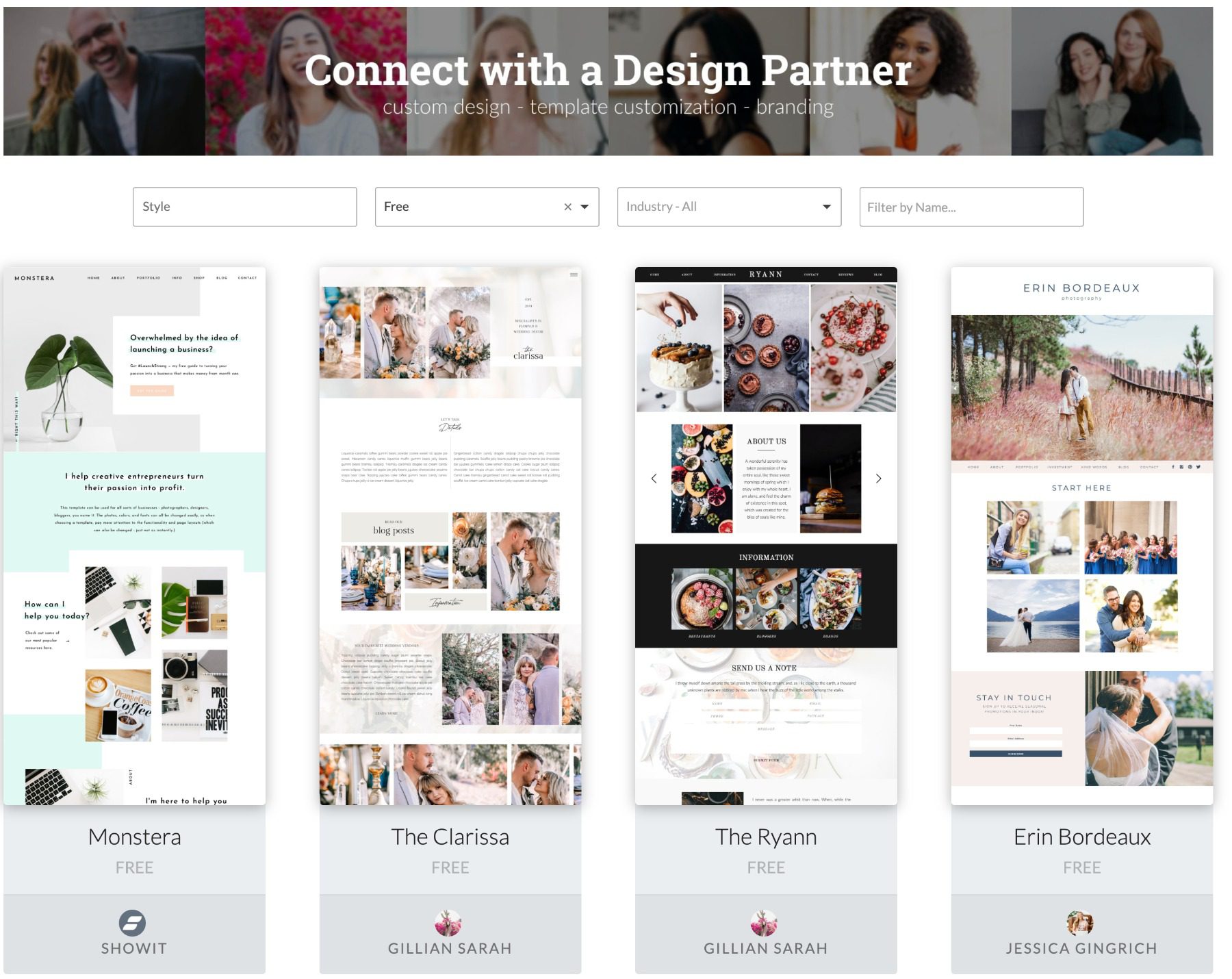 Showit templates focus solely on page design, not affecting the platform's feature set. These templates offer a head start in the design process, particularly useful for Showit's primary audience – photographers. Since showit website templates don't add new features requiring additional training, users can quickly choose and customize a template to fit their needs. While Showit provides several free templates, it also has a robust ecosystem of paid templates. However, these premium templates are expensive, averaging well over $500, which may surprise WordPress users accustomed to themes typically priced between $49 and $200.
Read: Best WordPress Security Service Providers
Winner
WordPress wins in this category with its extensive library of thousands of themes, including numerous free options. Showit's themes primarily focus on aesthetics and don't add new functionality, and the platform needs more breadth of free themes that WordPress offers.
Know: Blogger Vs. WordPress: What's Best For Blogging?
WordPress vs. Showit: Security
In comparing WordPress and Showit regarding security, both platforms have their approaches and advantages.
WordPress Security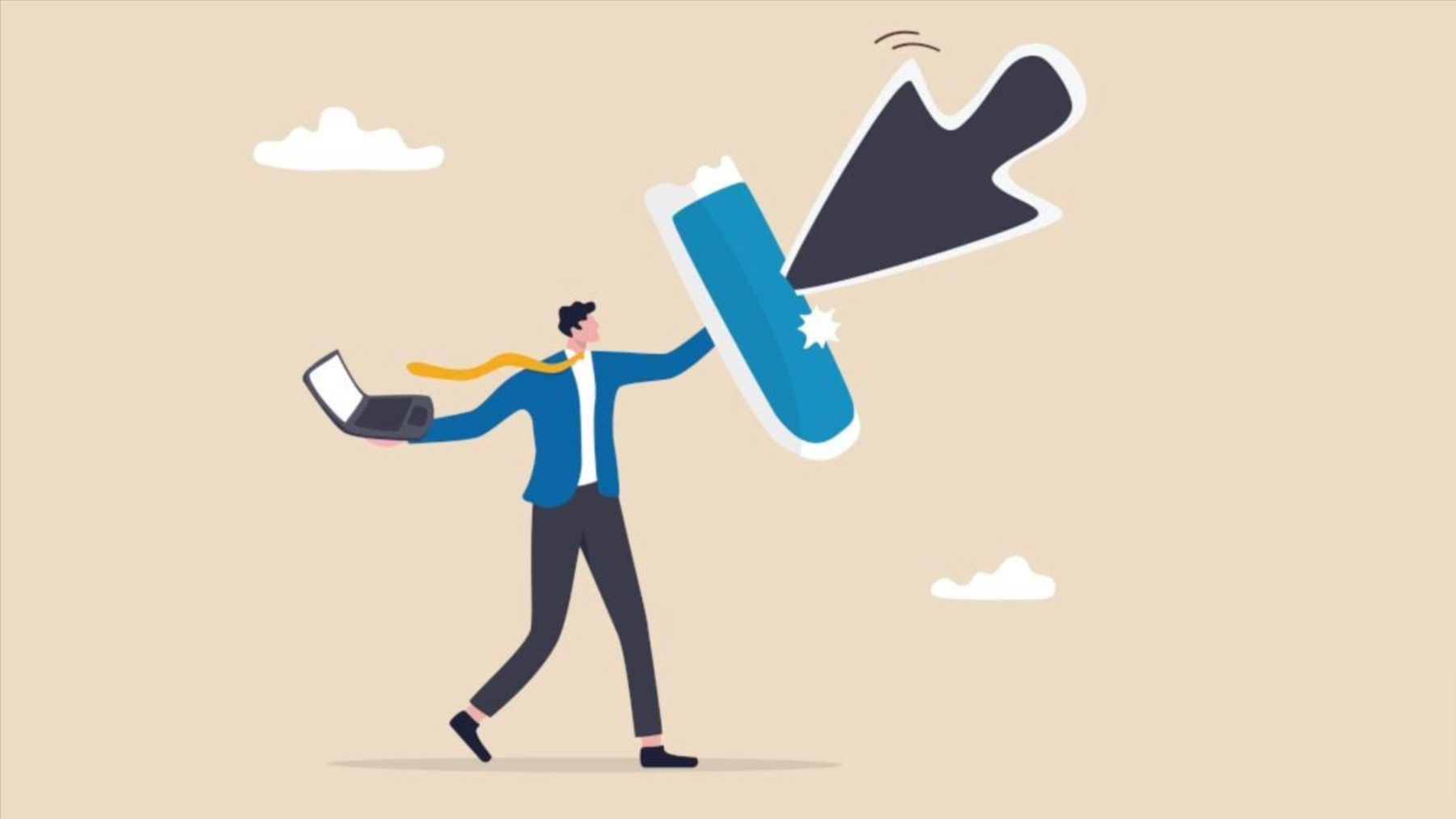 With WordPress, security can be more complex because multiple layers need to be protected. However, WordPress provides various options for creating custom security solutions. Form and comment submissions can be saved by setting up honey-pot and CAPTCHA plugins that limit bot and spam submissions. On the technical side, many WordPress security plugins offer simple security solutions covering most vulnerabilities. Premium features are available for even more hardened protection. Additionally, hosting level security and CDN options are worth considering for protection against DDoS attacks and to increase the efficiency of your website. Proper password practices and two-factor authentication are essential for keeping a website secure.
Read: Best WordPress Support Services
Showit Security
Showit takes a more streamlined approach to security, as the platform manages site security for hosted websites. This means users don't have to worry about finding and implementing security solutions. Showit provides and automatically sets up an SSL certificate with published websites, and the source code is not editable, adding an extra layer of security. Showit also maintains backups of websites for easy retrieval if something goes wrong. Additional managed security is offered for Showit websites with an attached WordPress blog. The risk factors are generally lower because Showit is a simple website builder with minimal customization options and user interaction. However, proper password hygiene is still crucial for Showit users.
Winner
Showit wins in this category due to its streamlined approach to security, which takes the burden off users to find and implement their security solutions. While WordPress offers a wide range of security plugins and options, users need more effort to secure their sites properly.
Read: Webflow Vs. WordPress
WordPress vs. Showit: Blogging
In the realm of blogging, WordPress is the superior choice. WordPress was initially developed as a blogging platform, so it's no surprise that it excels in this area.
WordPress for Blogging
WordPress offers many tools specifically designed for bloggers, allowing users to set up and manage their blogs quickly. The platform has an extensive range of templates designed specifically for blogging, and users can easily install plugins to customize their blog's design and layout. WordPress also offers many plugins for enhancing the blogging experience, such as tools for SEO, social media sharing, and comment management. Additionally, WordPress is highly scalable, making it an ideal platform for bloggers who may start small but plan to grow their blogs over time.
Also Interested In: Shopify vs WordPress.
Showit for Blogging
Showit does not have a built-in blogging platform, so users need to integrate WordPress to start and manage a blog. The website builder provides access to a single blog template that users can customize in Showit's dashboard or WordPress. For those who already have a blog on other platforms, Showit offers free blog transfer. While this integration allows users to blog on their Showit website, it is not as seamless and feature-rich as a native blogging platform.
Winner
WordPress is the clear winner when it comes to blogging tools. With its origins as a blogging platform, it offers a wide range of tools, templates, and plugins designed specifically for bloggers. While Showit allows users to integrate WordPress for blogging, it lacks the comprehensive blogging features and ease of use that WordPress provides.
Know: Shopify Vs. WordPress
Comparison Conclusion: Which one is better?
The choice between WordPress and Showit depends on your specific needs, skill level, and what you want to achieve with your website. Both platforms have their strengths and weaknesses; the right one for you depends on your circumstances. Below is a summary of the strengths of each platform:
WordPress
Flexibility: Highly customizable and suitable for various websites, from simple blogs to complex eCommerce sites.
Plugins and Themes: Extensive repository of plugins and themes that can add almost any functionality and design you can imagine.
Blogging: Originally a blogging platform, WordPress is still the best choice for bloggers.
eCommerce: Can handle small to large web stores with powerful plugins like WooCommerce.
Community: A large, active community of developers and users that can provide support, advice, and new developments.
Showit
User-Friendly: Drag-and-drop website builder that's easy for beginners without coding knowledge.
Design-Oriented: Ideal for photographers and creative professionals who want a visually appealing website without the complexity of WordPress.
Security: Managed site security, SSL certificate setup, and backups for peace of mind.
Limited Customization: Easier for users who want to be able to handle the options.
In conclusion, WordPress is the better choice if you're looking for a powerful, flexible, and customizable website platform. However, if you're a beginner or a creative professional looking for an easy-to-use platform focused on design, Showit might be your better option.
Are You Ready To Try WordPress?
Get in touch to know how we can help!