In an era where digital marketing reigns supreme, online presence has become indispensable for businesses of all sizes. For the jewelry industry, a well-designed website showcases your beautiful creations and helps reach a wider audience and drive sales. A captivating website is more than just an online store or catalog to sell handmade jewelry in; it is a powerful tool for building a brand and establishing a solid connection with potential customers.
Jewelry websites require a particular touch of elegance and sophistication to reflect the uniqueness of jewelry designer and their products. With this in mind, choosing the right WordPress theme for jewelry designers is crucial. The suitable theme will display your jewelry website in the best light and provide a seamless user experience, making it easier for visitors and jewelry designers to browse, find information, and purchase.
The good news is that you don't have to be a web designer to create a stunning jewelry website. Thanks to the vast array of jewelry WordPress themes available today, you can quickly build a professional and attractive jewelry website, without much effort. In this article, we've curated a list of the best jewelry WordPress themes for 2023 to help you find the perfect match for your own jewelry shop or business. These top jewelry themes are equipped with features and customization options that cater specifically to the needs of jewelry stores, offering a blend of aesthetics, functionality, and ease of use. Let's dive in!
Why Does Your Jewelry Business Needs an Online Presence?
WordPress themes are pre-designed templates that allow you to create a professional-looking website without the need for any coding or design skills. With many customizable features, you can easily tailor these themes to fit your unique brand and business needs. Moreover, WordPress themes are typically much more affordable than hiring a web development company, making them an ideal choice for small to medium-sized businesses working with a tight budget.
For a jewelry business, an effective website should showcase your products in the best possible light, offering high quality photos, clear and detailed images, accurate product descriptions, and an easy-to-navigate interface. The theme should also optimize for search engines, offer mobile-friendly design, and ensure a secure and user-friendly checkout process.
Having an effective website for your jewelry business offers several benefits. It helps you reach a broader audience, build trust with potential customers, enhance your brand's online presence, and boost sales. A well-designed website promoting jewelry, can also provide valuable insights into customer behavior and preferences, helping you to improve your product offerings and marketing strategies.
Best 6 WordPress Themes for Jewelry eCommerce Store
Let's dive in and explore the best WordPress jewelry themes that will help you shine your premium online presence!
Learn: 20 Best Elementor Templates For WordPress   
The Luxury – Showcase Your Premium Products with Style
The Luxury is a WordPress theme designed to showcase premium products. It is ideal for businesses dealing in high-end products such as jewelry, watches, cars, and even yachts. Its modern and streamlined design allows you to present your products sophisticatedly and attractively.
At the heart of The Luxury theme is the powerful WooCommerce plugin. It enables many ecommerce features to list and manage products efficiently, providing a robust platform for conducting e-commerce transactions. The theme optimizes well for sales, offering a user-friendly interface that encourages customers to browse and make purchases.
A standout feature of The Luxury theme is the inclusion of the Master Slider. This premium plugin, generally priced at $28, comes with the theme for free. It allows site administrators to create stunning product slides, showcasing promotions, offers, and featured items in a visually engaging way.
Related: Best Personal Trainer Website Templates For 2023
Reprizo – A Comprehensive WordPress Theme for Jewelry and Watch Businesses
Reprizo is a best jewelry WordPress theme that has been meticulously designed for businesses dealing with jewelry and watches. With five distinct demo layouts, Reprizo makes it easy to start with a design that aligns perfectly with your brand's aesthetic.
What sets Reprizo apart from other themes is its feature-rich package, tailored to meet jewelry and watch businesses' unique needs. Customization becomes a breeze with Reprizo's intuitive tools, allowing you to personalize every aspect of your website easily. The theme also comes with various features, such as social media integration, a blog section, support for coupons and reviews, and a builder plugin for customizing the header and footer.
Reprizo is fully optimized for mobile devices, ensuring a seamless browsing experience for your customers, regardless of their device. The theme adheres to SEO best practices, boosting your site's visibility in search engine results. Also, Reprizo is optimized for speed, keeping customers engaged and preventing them from leaving due to slow page loads
Get your jewelry business off the ground with the powerful features and customizable design options that Reprizo offers. Make a lasting impression on your customers and differentiate your brand from the competition with this comprehensive WordPress jewelry theme.
Read: Best WordPress Page Builders For 2023
Divi – A Multilingual Powerhouse for Your Jewelry WordPress Website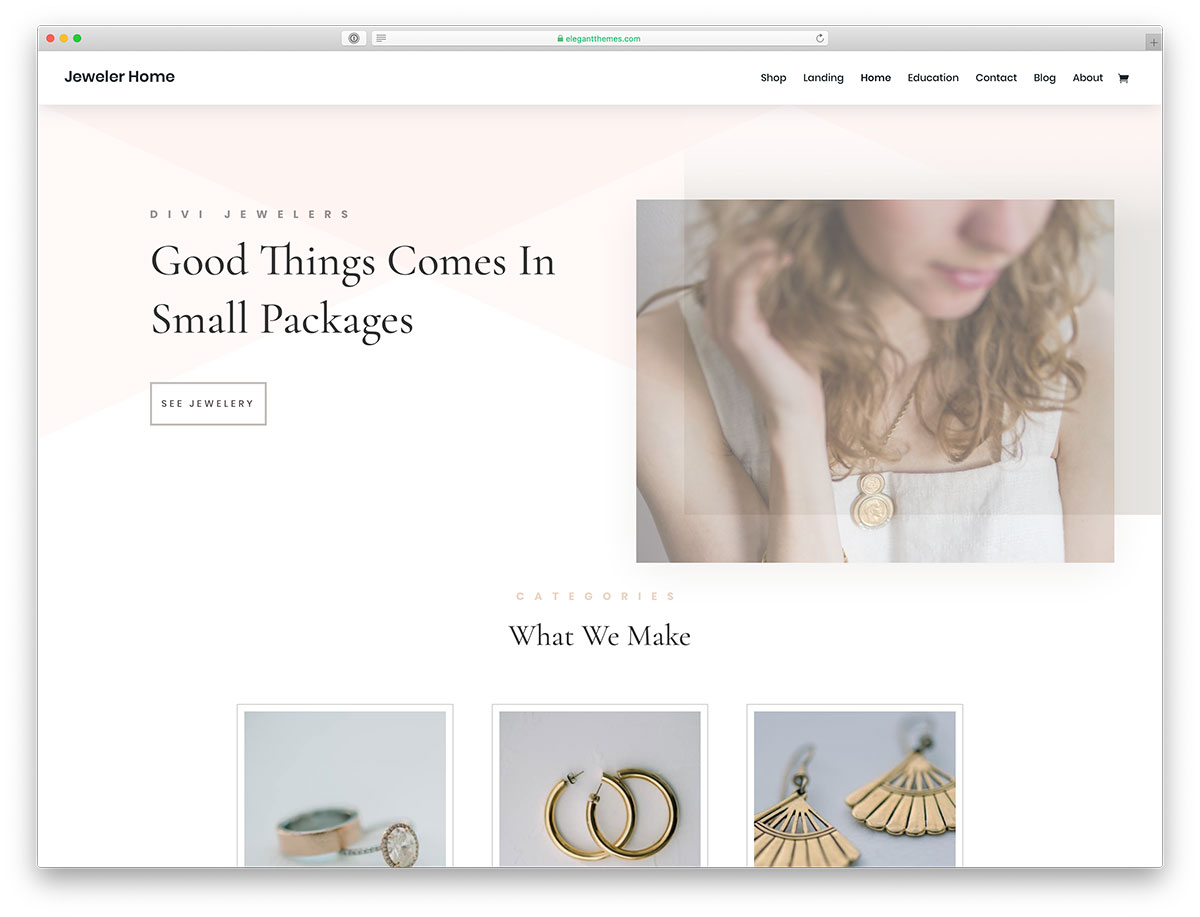 If you're seeking a jewelry WordPress theme with endless possibilities, Divi is the answer. Designed to meet the needs of businesses that operate globally, Divi can display your content in any language, catering to a wide range of international customers.
With translations available in 30+ languages and support for Right to Left writing, Divi ensures you can connect with your audience in their native tongue, creating a more comfortable and personalized browsing experience.
The best part about Divi is its unparalleled flexibility. You can use the Divi Builder to create a custom logo layout or select a pre-made variation. From there, you can tweak every detail to your liking, tailoring your website to match your brand's identity.
Whether you run a small jewelry business or a global brand, Divi offers the features and capabilities to create a standout website. It's multilingual features and powerful customization options make it an ideal choice for your jewelry WordPress website.
Learn: 5 Best WordPress Security Service Providers 
Aurum – Simplistic Yet Impressive Jewelry WordPress Theme
Aurum is a minimalist jewelry WordPress theme that offers a clean and intuitive platform to set up an impressive eCommerce store for your handmade jewelry business. Despite its simple design, it has numerous features and options to help you craft a unique online presence.
The theme offers a choice of 7 ready-to-use demos that can be installed with a single click, enabling you to get your website up and running quickly. Moreover, the Skin Builder feature allows you to design your eye-catching skin to match your brand's aesthetic.
When it comes to customization and setup, Aurum's detailed documentation has you covered, guiding you through every step of the process. And if you encounter any problems, the dedicated support team will help you resolve any issues promptly.
Not to mention, Aurum is compatible with popular translation and multilingual plugins, making it easy to translate your website and cater to an international audience. Aurum provides a perfect blend of simplicity and functionality, ensuring a seamless shopping experience for your customers while reflecting your brand's unique style.
Know: 5 Best WordPress Speed Optimization Services
KALLYAS – Versatile and Robust Jewelry WordPress Theme
KALLYAS is a highly versatile and robust WordPress theme, ideal for serving the diverse needs of jewelry shops, online jewelry retailers, artisanal jewelers, and other selling jewelry related business online and eCommerce ventures. Designed to give your own jewelry shop or online store, a stylish and sophisticated online presence, KALLYAS comes equipped with various features tailored to the industry.
One of the standout features of this jewelry shop theme, is its integration with the WooCommerce plugin, which enables you to set up an online jewelry store easily. Its shop page templates have been designed to showcase your jewelry products in an attractive and engaging manner.
Another highlight of KALLYAS is its user-friendly visual drag-and-drop page builder, which allows you to customize your website without any coding knowledge. With this feature, you can easily create stunning custom layouts and design elements ecommerce website that reflect the unique character of your jewelry brand.
To give you a head start, KALLYAS comes with a wide range of example websites and page templates, which you can use as a foundation for your own online store or jewelry website. You can customize these templates to suit your needs and brand identity.
Learn: Why Your Business Needs White-Label WordPress Outsourcing?
The Hanger – A Powerhouse Jewelry WordPress Theme
The Hanger stands out as a premier jewelry WordPress theme, redefining versatility and flexibility in the online marketplace for those selling jewelry online. Tailored with precision and elegance, this theme is more than just a digital interface to sell jewelry online; it's a dynamic platform designed to transform your online jewelry store.
Driven by the robust capabilities of WooCommerce, The Hanger ensures that you're showcasing your exquisite jewelry pieces and providing an efficient platform for sales. This theme goes beyond listing products online; it's about creating a seamless shopping experience. Its intuitive and user-friendly checkout process ensures that converting a potential customer into a sale is as smooth as possible.
One of the key strengths of The Hanger is its diverse array of features that elevate the user experience of online stores. From integrating coupons into checkout pages to offering one-click refunds, this theme understands the nuances of an online business. Features like geo-location, tax options, and dynamic shipping rates make transactions transparent and trustworthy for your customers.
But what truly sets The Hanger apart is its commitment to building a brand identity. With its rich feature set, you're not just setting up an online store but creating a memorable brand experience that resonates with your audience.
know: 15 Best AI Website Builders For 2023
July
If you're in the market for a versatile and adaptable WordPress theme for your jewelry business, "July" might be the perfect fit. Its combination of a dedicated jewelry store demo and the flexibility of a multipurpose eCommerce theme offers both specificity and breadth in its features.
Whether you're a good web development company looking to create a dedicated product page, an about us section, or a blog to engage with your audience, the myriad templates available with July can cater to all these needs. The seamless integration with the Elementor page builder ensures that even those without a technical background can easily craft and customize their website.
The additional eCommerce capabilities, from product hover styles to trust badges, enhance the user experience and can help instill confidence in potential buyers. If you want to make a memorable online impression in the jewelry market, giving July a closer look would be wise.
Learn: Best Podcast Website Examples + Themes (2023)
Choose the Right WordPress Theme For Your Online Jewelry Shop
Many options are available for anyone looking to set up a successful online jewelry store. The best jewelry WordPress themes we discussed are all equipped with features and functionalities to help create an attractive and efficient online storefront for your jewelry business. Whether you're looking for a minimalist, modern design or a more traditional, ornate aesthetic, there's a theme out there that will fit your needs. Investing in a high-quality jewelry store demo theme now can provide a professional, trustworthy, and user-friendly shopping experience for your customers. So go ahead and choose one of the best jewelry WordPress themes that best represents your brand and start showcasing your beautiful online jewelry store to the world.
Häufig gestellte Fragen (FAQs)
Which theme is best for eCommerce WordPress?
Many excellent eCommerce themes are available for WordPress, so the best one depends on your specific needs. Some of the most popular options include: 
WooCommerce Storefront: Developed by WooCommerce, this theme is designed to work seamlessly with the WooCommerce plugin.
Astra: A highly customizable and lightweight theme, compatible with popular page builders like Elementor and Beaver Builder.
Flatsome: A responsive and multi-purpose theme known for its user-friendly page builder and extensive library of pre-made designs.
Divi: A powerful and flexible theme with an integrated page builder, allowing for highly customized designs.
OceanWP: A free, multi-purpose theme that works well with WooCommerce and popular page builders.
Which theme is best for a business website?
The best theme for a business website will depend on the type of business, the features you need, and your design preferences. Some popular options include:
Divi: A highly customizable theme with a built-in page builder, great for businesses of all sizes.
Avada: A versatile and responsive theme with a wide range of pre-built designs suitable for different business niches.
Hestia: A modern and clean theme for professionals and businesses, with WooCommerce integration for online shops.
How do I add an eCommerce theme to WordPress?
Adding an eCommerce theme to your WordPress site involves a few simple steps:
1. Go to your WordPress dashboard and navigate to Appearance > Themes.
2. Click on the "Add New" button.
3. You can search for specific themes using the search bar or browse through the featured, famous, or latest themes. Look for themes optimized for WooCommerce if you plan to use this plugin for your online store.
4. Once you find a theme you like, hover over it and click the "Install" button.
5. After the theme has been installed, click the "Activate" button.
6. Once activated, you may need to configure the theme settings according to your preferences and requirements. Most themes will offer a customization guide or instructions.
7. If you haven't already, install and activate the WooCommerce plugin and follow the setup wizard to configure your online store.
Does website theme affect SEO?
Yes, your website theme can impact SEO. Themes that are well-coded, fast-loading, mobile-responsive, and follow best practices can positively influence search rankings. On the other hand, poorly coded or bloated themes can hinder SEO performance. Always choose a theme that prioritizes SEO optimization.